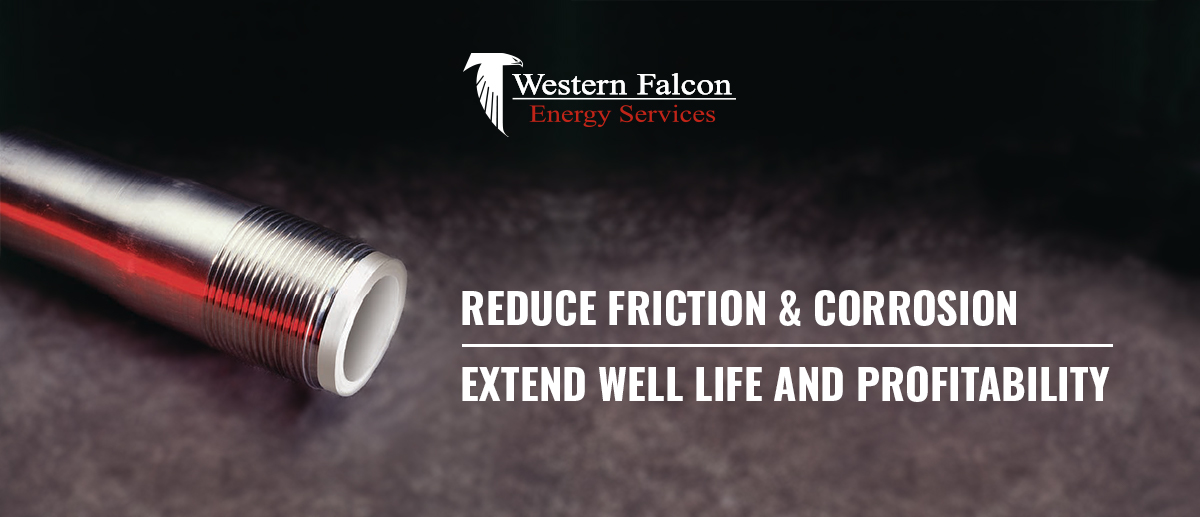 ---
How Quality Thermoplastic Liners Save You Money
---
Thermoplastic liners make pumps more efficient to run, saving you money in a few different ways. Consider installing thermoplastic liners (TPL) in downhole tubulars, surface piping, or both.
A Case Study in Glasscock County, Texas
A company, in Glasscock County, Texas, was experiencing a well failure, about every four months on average. After reviewing the well carefully, it was determined that downhole friction was creating a significant amount of wear. This accelerated corrosion on crucial components, leading to regular failures. The company spent more than $30,000 on tubing workovers in attempt to resolve the issue. Ultimately, they turned to Western Falcon's line of high-tech TPL for a more permanent fix. The company chose to line the bottom 2,200 feet of an 8,000 foot well with Ultratube™. Ultratube is a polyphenylene sulfide (PPS) plastic liner, rated for use in temperatures of up to 350⁰ F. The company paid under $22,000 to run the line tubing. As a result, the run time increased to 24 months, and it is still running today. The company's cumulative profits have climbed from about $175,000 to nearly $375,000 – a result of Ultratube liner installation, and reduced failure rate.
How Do Thermoplastic Liners Have Such a Tremendous Impact?
Thermoplastic liners, like Ultratube, have been designed specifically for the oilfield industry. They withstand temperature, pressure, acid gasses, and friction thousands of feet below the surface. Our thermoplastic liners are created with quality materials (PPE, high density polyethylene (HDPE), strong polyolefin blends, and polyetheretherketone (PEEK)). These are engineered to get wells back up and running, reduce friction and corrosion in downhole equipment, and extend overall service life. With greater pumping efficiency (HP), and less downtime, expect to see a tremendous return on your overall investment. It is important to remember that TPL is not only a fix for problematic wells, or, wells that regularly fail due to wear and tear. TPL is an essential part of every well; and, designed specifically for your application.